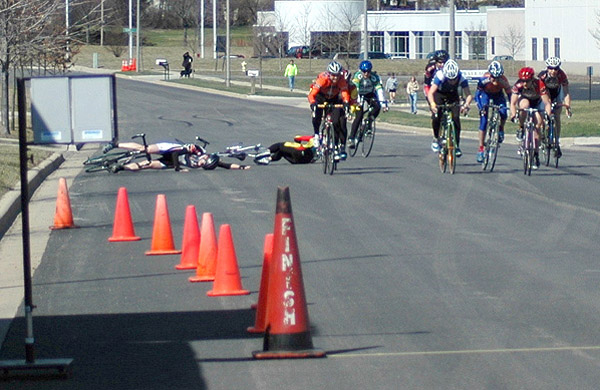 My three goals for my first criterium were met. I didn't die. I didn't crash. I didn't come in last.
The women above who raced after me were not so lucky. I couldn't tell exactly what happened, but two of them went down hard on the final sprint.
There were no crashes in my event, a relief given that it was a Category 5 race. My understanding is that Cat 5 races are full of beginners with dubious bike handling, but everyone seemed confident and experienced. I wonder whether this is like spotting the fish at a poker table. If I look around and can't spot the squirrelly rider, does that mean the squirrelly rider is me?
I have no complaints with my performance, though I made two first-timer mistakes.
With five laps to go I launched an accidental attack. I'd taken a turn too wide and then overshot the pack when I tried to reenter. Suddenly I was about 10 meters ahead and going as fast as I could into the wind. It lasted about 2 seconds as the pack reeled me in faster than anyone could say, "What does that idiot think he's doing?"
Then I misjudged the final sprint. I was in the front third on the final turn and wondering what was about to happen. While I wondered, everyone else was starting their sprint and passing me with ease. I jumped a second late and had to settle for 19th out of 24.
It surprised me how stressful the criterium is. I'm accustomed to marathons, where I'm not competing against anyone but myself. In a bike race, I'm competing against others, and it was strange to have to take them into account.
I sat in the passenger seat on the way home. With every brake and swerve, my fingers twitched as if they were still on the handlebars. My eyes scanned the road for holes to fill and steady wheels to draft behind.
Photo taken: April 3, 2005