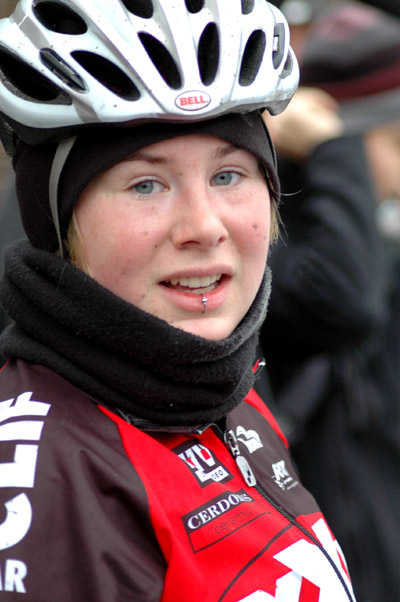 Once I had decided to get into racing, I started looking for a team. I needed a group whose rides started in the city, had morning events and was open to beginners. Most teams I found were based in the suburbs or came across as too insular.
Judging from its Web site, xXx Racing-AthletiCo seemed like the right fit. There were a few xXxers at the alley cat I did in January, including Anita, above, and though I didn't talk with them much, they gave off just the punk-jock vibe I was looking for. Later that week I sent in my first membership dues.
I finally went on my first team ride Saturday morning. It's a weekly ride 16 miles north to Highland park. There were about 40 riders of varied abilities, which kept the pace moderate, around 18 mph.
I'm glad I finally got to meet more members of the team, although it's a funny thing when everyone is in the same jersey and wearing sunglasses and you're processing them out of the corner of their eye: You attach names to bikes rather than faces. "The orange Orbea is Bob ... the black Trek is Phil ..."
In Highland Park we broke into smaller groups. Some would ride straight home. Others would go almost as far as the Wisconsin border. I ended up in a group of six who wanted to do a loop through Ft. Sheridan, another 10 miles.
It was good paceline practice. I was chagrined, however, at how much I struggled to get up the single tough hill we came across. I sprint like a school bus, but my theory has been that my body would be more suited for hills: I'm lighter than most other riders, and running has developed my slow-twitch muscles. So much for that theory.
As a group of six we went faster than before, about 21 mph, and into the wind and with a smaller draft. About 10 miles from home I started to be a drag on the group. I lagged, letting gaps develop and slipping into anaerobic respiration just to keep up. Dropping out became an option, an ominous thought given that my next competitive race would be about as long as this ride and with many more hills and less collegiality.
Just in the nick of time my bike seized. Two calamities had struck: My rear quick-release had come undone and I had a flat. I'm not sure which caused the other, but I was in trouble.
I half-heartedly told the others to go on, but I knew I'd need their help. Fixing flats on a road bike is my bane. I know, I know: Calling yourself a cyclist and not knowing how to change your tire is a bit like calling yourself a fashion model and not knowing how to change your clothes.
Within ten minutes -- hooray for co2 cartridges -- we were rolling, and there was minimal grumbling from my teammates. The worst came a few minutes later: "Let's try to get a rhythm going, eh? We were doing fine until that flat." For me, however, the flat offered the perfect breather, and I was strong the rest of the way.
xXx is notorious for having been started by bike messengers. It now has corporate sponsorships, committees and other trappings of a grown-up racing team, but it still feels like a good fit. Obviously I'm not yet a perfect fit for it, but the plan is to change that by the end of the summer.
Photo taken: Jan. 9, 2005