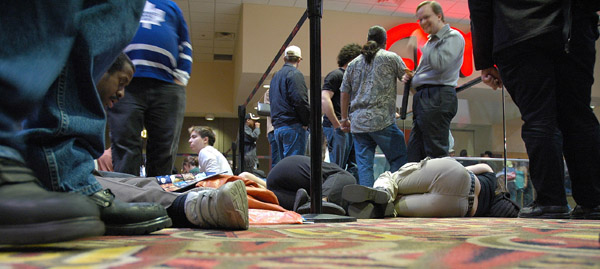 Sith happens.
After work I killed time at Cambridge House, one of River North's last diners. It's doomed for demolition within the year, so as I read and sipped my coffee I took note of all the usual late-night characters. The tourists, the young couples taking breaks from clubbing, the second-shift employees from neighboring hotels picking up their burgers and francheezies. And the truck driver who scolds the waitress for having missed "American Idol" because, Honey, now how is he going to know what happened to Vonzell?
Around 12:30 a.m. I took my place in line at the theater, surrounded by college students and middle-age fans quite amused by the sounds of their own Yoda voices. (The dorkiest of the young dorks had quite fetching girlfriends in tow. WTF? I screwed my fists into my eyes to make sure I was indeed seeing what I was seeing and it wasn't a sleepy-headed hallucination, but it was true: They were hotter than a summer day on Mustafar.)
A dozen screens were in use for the midnight show. It took awhile to flush them out. Then there was a problem with the digital projector. Then there were 20 minutes of trailers. My 3 a.m. show didn't start until 3:50. When I finally got home at 7, my alarm was going off, still set from when I'd woken 25 hours earlier for time-trial practice.
Photo taken: May 19, 2005