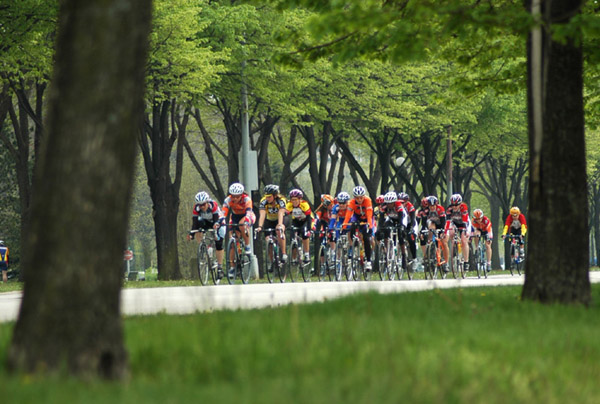 Saturday I competed in my second criterium, the Monsters of the Midway down at University of Chicago.
This one yielded a Schmalz Suck Level of 6.
My first crit was a Cat 5-only affair. There were only 25 riders and the pack stayed together the entire race. Saturday, on the other hand, was both Cats 4 and 5 and there were about 80 riders, nearly all of whom had many more seasons of exerience than me.
My anxiety over riding in such a large, fast group proved unfounded when I got dropped early. Suddenly I had all the space in the world. How early I got dropped I'm not exactly sure. Maybe on the first backstretch, when we hit a headwind. I can remember very little about the first few laps. Usually I'm able to replay every turn of a race in my head, but in this case there's an amnesia.
Around the 10th of the 15 laps the main pack lapped me. They screamed by like a train. At least one screamed at me for not pulling far enough to the right.
I wasn't sure if I was allowed to continue after that, but no official pulled me off and the small group I was with kept going. Our sprints weaved through the faster riders on their cool-down lap. I attempted a bike throw at the finish line to contest 70th place -- this is a guess; officials stop counting after the first 30 or so, so I'll never know my precise placing -- but I was just short.
Beyond my inability to sprint or corner, there are plenty of reasons I don't care for crits, fear of death and dismemberment among them. Mostly I prefer the road race because I find it to be a much more honest test of strength, endurance and character. Yes, there's drafting and tactics, but there's no hiding: The wheat will eventually drop the chaff.
A crit tests other things, such as handling, teamwork and acceleration, noble skills all. But it seems that placement hinges most on how well a rider can weasel a good position on the last lap. (I hope this is an honest observation, and not just the sour grapes of someone yet to finish in the top 80 percent of a crit.)
Me, I just want to ride long, ride hard and ride fast. I'll save my bike handling for when I'm dodging cabs on Michigan Avenue.
Riding home the wind off the lake was so fierce I could barely maintain 15 mph. At the Museum Campus I cut over to city streets, hoping the buildings would block the Hawk for me. I was still wearing my team jersey, so I resisted the usual temptation to flip off Hummers, lest I bring more shame to my squad than I already had.
In Uptown I crossed paths with a guy on a 10-speed with a torn-up leather jacket, coonskin hat and big, droopy mustache. (No, it wasn't Bob Conrad.) Attached to his rear rack were two speakers the size of suitcases. They blasted AC/DC. A bright-orange novelty license plate read "HOFFA."
Something told me that if there were a bad-ass cyclist at this intersection, it wasn't me.
As penance for the day, I headed up to Highland Park this morning to do hill repeats.
Photo taken: May 7, 2005