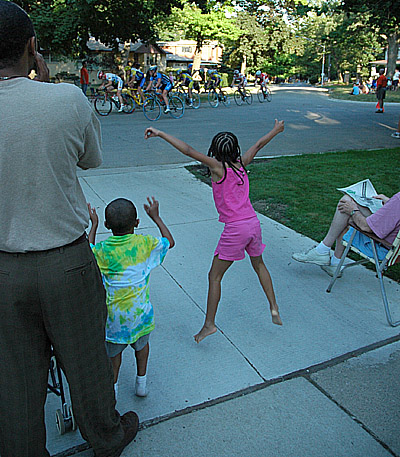 Last Night was the Beverly Hills Cycling Classic, the first event of the 17-day "Superweek," a series of races in Chicago and around Milwaukee. I'm registered for three of them, road races all. If I do well enough, I'll try to squeeze in a few more, maybe even a crit, but I'm not counting on it.
Beverly was a 60-mile criterium for pros and Cat 1's and 2's. The field was a mix of international pros and regional hot shots. This was my first exposure to racing of this caliber, and I was amazed: They were racing at speeds I could probably not even reach, let alone sustain for 2 hours.
I was also amazed at Beverly, a quaint haven of smalltown life on the far South Side. Rolling hills, well-tended lawns, large lots, kids at play, neighbors gathering to gossip, brats grilling in every other driveway -- I had no idea such a diverse neighborhood existed within Chicago city limits. Clean, quiet and pleasant without being overtly upscale or tony. Reminded me of parts of Minneapolis. I almost forgave its many violations of the Chicago grid.
Not that I'd want to live there, or even dine there. I left immediately after the race and hit Lem's BBQ on 75th on my way home. "Your ride all the way here?" said one of the guys behind the bulletproof window, knowing with a single glance that I had come a long, long way. "That's a regular Tour de France. We'll set you up with extra fries for that." Which he did, and which I enjoyed while sitting on the sidewalk outside. (My experience with BBQ suggests that quality is inversely proportional to available seating.)
Photo taken: July 8, 2005