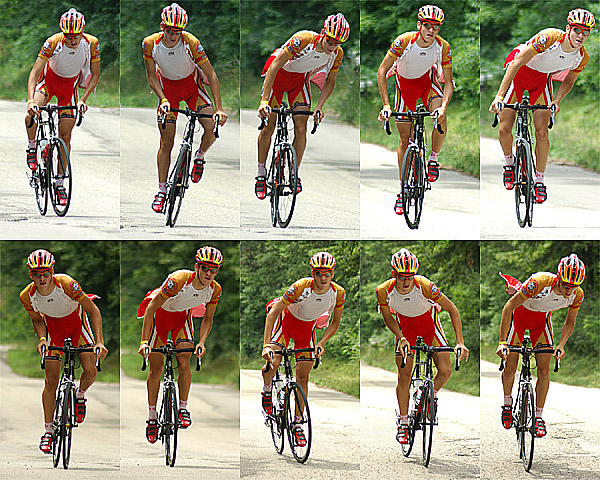 I'd give anything for a picture of this:
I'm climbing Alpine Valley's toughest hill for the fourth and final time. It's the same hill that the junior above is wiggling up. I try to spit, but full expectoration is not achieved. A stream of saliva dangles from my bottom lip all the way to my top tube. I could fling it away with a finger, but I need both hands to tug at my handlebars. I could spit it the rest of the way out, but that would take energy and focus, and my reserves of both are already completely devoted to the climb. So on it dangles for a good 20 seconds.
And it's great. This, friends, is why I cycle, and this is what cycling has done to me: It has literally turned me into a drooling idiot. (I wrote as much in a cranky e-mail to a local newspaper columnist who had belittled the Tour de France. He seems to find golf exciting. Wake me when Michelle Wie is working so hard that a giant loogie dangles from her lip.)
When I tell people how important racing has become to me, I often add, "And just think how much fun I will have once I'm actually competent." Truth is, I still stink. In today's race the pack shelled me after the first of four laps, thanks in part to some tactical miscues that wiped me out heading into a climb. (Bridging to a breakaway? Who do I think I am?) Once again I had to watch as a peloton drifted tantalizingly out of reach.
After I got dropped I was scooped up by a few other riders, one of whom organized a rotating paceline. Unlike at my first race, this time I knew how a rotating paceline worked, so I was able to stick with them.
We finished in a group of six. Even though we were contesting God knows what place, I attacked at the 100 meter mark. I thought it strange, though, that I couldn't see the finish line, and also strange that everyone else was content on my wheel. Nobody was sprinting. Then we passed the 200 meter mark. Blast! They'd put the signs in the wrong order! It was here that everyone jumped and left me in the dust.
As it turns out, that sign didn't say "100 meters." It said "1000 meters." It's not unusual for my vision to be double at the end of the race, but this was the first time it had been decimated.
This is Superweek, so there are races every day. I'm doing another one tomorrow, at a course aptly called the MGA Proving Ground. Another chance to prove myself worthy of calling myself a cyclist.
Photo taken: July 11, 2005