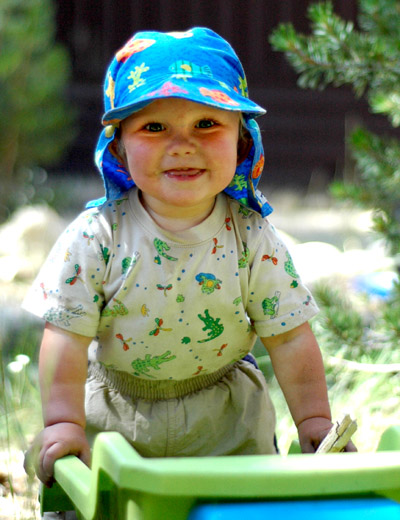 It usually takes about 14 months for me to make a good impression. Right on schedule, then, a great stride was made last week with my nephew, 14 months after I first met him: At the beginning of the trip he would cry as soon as I entered the room. By the end of the trip he'd cry when I left it. (It helped that I would sometimes leave the room carrying his favorite toys. It's a dirty trick to make an uncle feel wanted, but I love him so; all is fair and all that.)
On the trip's last night I stood around the campfire after my brother's ranger talk. He was chatting with visitors and mentioned he was from Wisconsin. Two young women next to me started tittering.
Do you think it's him? He said he's from Wisconsin. It's gotta be. Let's ask him. Yeah, ask him. No, you ask him. No, you ask him.
Hank looked their way and they were silent for a beat, then burst together: "Are you Malcolm's dad!?! He's the GREATEST!"
They'd apparently waited for a shuttle bus with Malcolm and his mother and become big fans.
They were sort of cute, too, but I resisted the urge to point out that I was Malcolm's uncle and, unlike his father, single. Still, it reminded of what great company Malcolm could be around Chicago. Prop him up on the bar and so long as he keeps his fingers out of my Schlitz I'm set.
It wouldn't even have to stop once he's too big to carry. I'm imagining a scene in 20 years when I am 50 and he is 21 and he visits his doddering, still-single uncle in the city. We'll ride our hoverbikes through the park. "This is my nephew," I'll say to the fawning women, "with whom I have common DNA. He pooped today!"
Or maybe I'll just buy a puppy.
Photo taken: Aug. 4, 2005