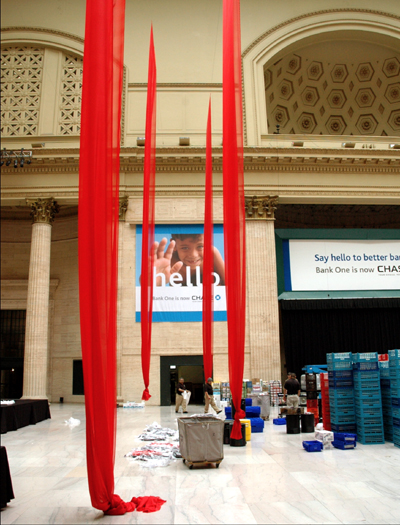 Union Station, where I catch the Van Galder bus whenever I visit family in Madison.
Did I ever tell you about the time I got kicked off a Greyhound bus?
This was in 2002. I was headed to Wisconsin to celebrate my grandmother's 80th birthday. The plan was to take a bus early Saturday morning to Milwaukee, where a cousin would pick me up and drive me to the party.
I've always taken pride in my patience and even keel, but there were a few extenuating details to irritate my temperament on this morning. I'd worked the late shift the night before, so it was on 4 hours sleep that I left my apartment around 6:30 a.m. to go downtown. A few weeks earlier I had broken my wrist and was still in a cast, making it difficult to get around with my bags. And the Greyhound bus terminal? A Zen garden it's not, what with all the winos and the children and the screaming and the Funyuns wrappers, and neither is it a pleasant place to sit waiting to board a bus that is 45 minutes late.
When we finally board I'm worried about my cousin Peggy and whether she'll still be waiting for me in Milwaukee. This is the era before cell phones -- read as, more than five weeks ago -- so I have no way to reach her.
The bus is packed. It's another 10 minutes before the bus driver boards. Instead of apologizing for the delay and getting on his way, he stands at the front of the aisle and in a mournful dirge reads the rules.
"There will be no eating on this bus."
Mournful pause.
"There will be no loud talking or radio playing on this bus."
Mournful pause.
"You'll see that I'm standing on a yellow line."
Mournful pause.
"There will be no crossing of the yellow line."
He's like "Cool Hand Luke"'s Carr on valium, detailing the infractions that will result in a night in the box, and just like Cool Hand Luke, I'm exasperated. I throw up my arms -- one broken, one whole -- and moan, "Can we go already?"
The driver pauses again. Mournfully. He stares me down. In the tone of a junior high disciplinarean he asks a question that, as the clown in many a junior high class, I knew well growing up: "Is there something you'd like to share with the rest of us?"
I immediately realize I'm in trouble and that any further dissent is just going to delay us more. "No, no. I'm sorry, sir. Please go on."
And that's when I got kicked off the Greyhound bus. I was in disbelief and continued to apologize, hoping to suck up enough to change his mind. When he motioned for the three Somali security guards it became clear he wasn't bluffing. Together the guards were as intimidating as a coat rack, but I left peacefully, making a big show of struggling with my cast so that the driver could feel guilty about doing this to a cripple.
I'd just started dating a gal and thought about calling to borrow her car, but I didn't want her to think I was the kind of maniac who gets kicked off public buses, so I rented one instead. I got to the party in time and told Grandma and cousin Peggy that I'd overslept.
I've never taken Greyhound since, and the worst to happen on a Van Galder bus has been a corny joke from the folksy, sing-song driver.
Photo taken: Feb. 11, 2006