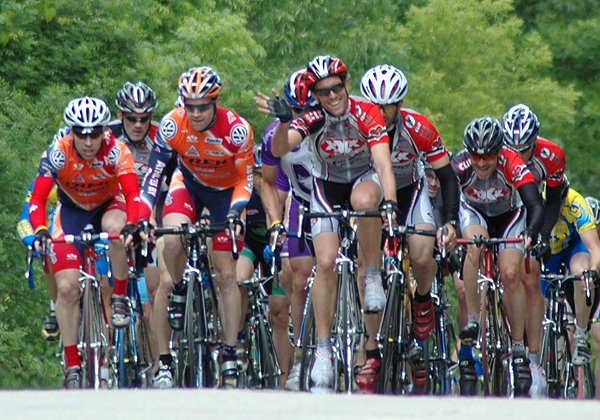 I don't believe the rider who ... told me how he had seduced a woman during a criterium. She was standing behind a crush barrier when he discovered her, or she him. (If she'd told me, I would have believed her.) Every hundred seconds he came barreling past, and so their love blossomed as prettily as a flower in one of those time-lapse films. Ten laps long they smiled at each other, for another ten laps she winked, they began running their tongues over their lips, and by the time the race was approaching its decisive phase their gestures had become downright salacious.

He said so, but I don't believe him, because he's a very good racer. It's impossible.

Tim Krabbe, "The Rider"
But nothing is impossible if you are not a very good racer.
My team had four people in last year's Spring Prairie Road Race. Only one finished with the pack, and it wasn't me, not by a long shot. This year would be different.
With a killer hill right before the finish line, it was a course suited to me. As soon as I noticed registration was open and that the field would be limited to 75, I started recruiting. Since it was Wisconsin's state championship, I figured the field would fill up quickly. I wanted as many teammates as possible.
A teammate was the first to register. I was second. Other teammates were third and fourth.
And sixth, seventh, eighth and ninth.
And 10th, 11th, 12th, 13th and 14th.
By the time capacity was reached, xXx constituted 23 of the 75-person field.
Alas, my fiendish ploy to hijack Wisconsin's championship was foiled when the promoters created a second field, separating the Wisconsinites from out-of-staters like us. (With our 2006 palmares -- victories at Parkside, Cobb Park and Baraboo, podiums just about everywhere else -- who could blame them?)
Rain fell in buckets Saturday morning. At 6:30 I checked the radar and found a green and orange blob spread across the Midwest. I drew an appropriate shirt, from Ride Across INdiana shirt, out of the drawer.
I'd been obsessing about this race for two weeks, but I hadn't thought to consider weather. There's nothing worse than a crowded race on wet roads.
Miraculously, rain, darkness and sorrow yielded to sunshine, warmth and glee once we crossed the state border.
As I greeted friends in the parking lot, I asked, "Ready to break some legs today?" To a person they answered in the affirmative. I had teammates who could drive the tempo in the flats. I would do the same on the climbs. It was entirely possible that someone could beat us, but we would make sure they earned it.
We would do six laps, ending each one with a steep hill that promised to damage the peloton each time up. It was this hill that would teach me an important lesson this day, that of not getting cocky about one's strengths.
Ever since San Luis Obisbo, I've relished opportunities to show off my climbing abilities, and I spent each of the first three laps showing off my nonchalance.
The first time up I casually glided to the fore and waved to spectators, as if I were a parade marshal leading a caravan of elephants and marching bands.
The second time up I made a show of drinking from my bottle and gargling.
The third time up I planted a kiss on Ellen. (I was going so fast, her head spun. Neck injury was narrowly averted.)
After the frst three laps whittled the field from 60 to 40 to 20, it was time for a selection to be made. A Northwestern rider joined Ed and me in setting a punishing tempo after the fourth climb, and the final group of 12 was established. Five were xXx: Me, Ed, Kevin, Ken and new teammate Pieter, who not having a uniform was riding incognito.
Once this group was established, only a few took pulls. Others moaned about how they were isolated without teammates. They'd just sit in back, thank you very much.
Ed and I spent the last few laps whispering about how we were going to win this race. It was pretty much a continuation of exhaustive discussions we'd been having over e-mail all week. Do we attack? When? Where? Both of us?
That's why I love cycling so much more than running, and it's why I enjoy writing these race reports as much as you enjoy reading them. Each race is a new puzzle waiting to be solved, a Rubik's Cube that continues to shift and change colors just as you think you have it figured out. If you've run one marathon, on the other hand, you've pretty much run them all. Strategy is the same, independent of course or competition: Run hard, run hard some more.
Heading into a stiff wind in the backstretch of Lap 5, the pace settled into a mosey. Naturally I did the same stupid thing I always do when I'm in a pack and I'm bored and impatient: I rolled off the front. And naturally the pack did the same smart thing it always does: It let me go.
I was surprised but pleased with the gap I got. 400 meters? This wasn't anything Ed and I had discussed, but I thought maybe I could expland it over the hill and make it stick for a lap. It was only 6 miles. I had blockers. What could go wrong?
We were starting to lap riders. When I passed a teammate, I yelled, "When they come through, tell Ed I've cramped up real bad!" Then I made a show of shaking out my right leg. I figured if the group thought I was injured it wouldn't chase so hard. Such is lesson No. 1 of cycling tactics: When you can't be fast, be sneaky. (I'd read about this stunt in a book some time ago. It worked in the book, but it didn't here. Nonetheless, I had fun trying. )
Halfway up the hill, I could tell I was going to get caught, but I was startled to see myself get caught in such a blaze of glory: Here was Pieter screaming up the left! He flew up the hill faster than anyone I've ever seen climb. Great! A counterattack! The move was brilliant.
Except it wasn't an attack: Pieter had thought we were on the last lap, and this was his big finish. It was a shame, because nobody could have ever matched his rapid ascent. (Afterward, impressed with his amazing tuck as much as his climbing, I asked him, "Where'd you learn to ride like that?" "Belgium." But of course.)
And then the last lap. Again we moseyed through the finishing flat until Ed moved to the front and set tempo to keep people honest and discourage attacks. He pulled off and other riders started to attack, but none got separation.
I came into the final corner in third. And here's where I blew it.
The first five times up the hill I'd done it by the book. I nailed it each time. Great form, smiling for maximum oxygen intake, spinning in my largest cogs. This time I got cocky and tried to assault the hill in a smaller cog. The gear was too high. I couldn't turn it over fast enough, and I had too much hubris to shift down and get into my proper rhythm.
I tried to grind it out. I had plenty of gas and had been feeling great even after my flyer, but I was sputtering. Meanwhile, the rest of our group started to pass. Ed almost looked upset at me as he went by, upset to be picking up my slack when this was supposed to be my moment. I came close to catching two riders, but I ended up ninth. Normally this would have satisfied, but I couldn't help but think that this had become a 12-man race, and I could claim no better than fourth from last.
Happily, Ed showed his usual excellence. He came in second, finishing behind the rider who had moaned the loudest about his lack of teammates. ("He didn't pull!" I would pout over lunch. "Yes, and he won," Ellen would remind me.)
Afterward Ed and I bowed our heads solemnly and crossed our arms. What happened? How did we not win this? What was the right solution to this puzzle? Sure, we broke some legs, but there's no prize for top leg breaker. There's only a winner and then everyone else.
This was a course and a field tailor-made for us. When do we get a chance to crack it again?
Photo taken by E. Wight: June 10, 2006