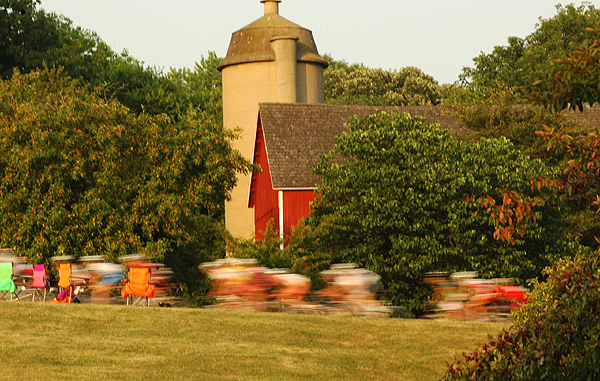 Were I in proper fitness, Tuesday's race through the rolling roads of the Whitnall Park botanical gardens is another one that should have been up my alley. (I got fifth here in April.) Happily, early on I could tell that I was feeling better than the previous day. I was lingering at the back, sure, but I was able to make up dozens of positions on each climb.
But 4 miles in, I felt a strange wobble in my rear wheel. I might have been bumped. I might have slipped on a groove in the road. It might have been pyschosomatic. Regardless, I didn't feel right, and I didn't feel confident taking turns at speed. I didn't want to risk falling on my glass shoulder, let alone take anyone else out with me.
"Brian," I yelled to a teammate. "Is my rear wheel shaky?"
"Yes!" he said emphatically.
So I pulled off and tightened my skewer. I chased for a bit, but even with motopacing from the support vehicle, there was no hope of catching. I rode on for the training. Friends and teammates encouraged me on, but others merely averted their eyes as I rolled past in shame. After five laps I called it a day.
Brian, an honest man and a chaplain by trade, later told me he had lied. My wheel didn't look shaky at all, but he knew an emphatic "Yes" was the answer I needed at that moment. Sometimes there is greater truth in the lie.
Nonetheless, I spent the rest of the day in a dark place mentally. Watching the pros, with their lean legs and their Zipp wheels and their dexterous turns, I didn't feel like a cyclist myself. I felt like a guy with an expensive bike and better things to be doing.
I wanted to imagine this being fun again. I wanted to imagine having confidence.

Wednesday was more fun. Wednesday I was more confident. Wednesday I had fewer things I'd rather be doing.
After reeling off two consecutive second-place finishes, Ed woke up in first place overall. Nico and I would be riding in his defense at the proving grounds, the course where I cracked a rib two years ago.
It's not something I've had much chance to do, but this kind of riding is an aspect of the 3's I was looking forward to. In some respects, playing a role and riding for someone else is more fun and more satisfying than riding for yourself. It's just as hard -- harder? -- but there's less pressure and tactically it can be more interesting, and I've enjoyed watching the more experienced Nico selflessly and expertly thread Ed through crowded packs.
In the second of six 10-mile laps, I was sitting near the front and feeling good. The pack had just reeled in a two-man break, but I rode tempo to make ground on a solo rider who remained away. The guy who'd won the previous day on a long flier was off the front and out of sight.
"Take it easy," Ed said.
"No, that time trial dude is off the front. We gotta bring him back before he gets too far."
"No he's not," he said. "Look, the pace car is here. The pace car stays with the leaders. That means there's nobody off."
"The pace car could be wrong," I said. I was certain I'd seen this guy's bright yellow jersey slip away. "Look, you stay here. I'm going to float back and try to find him."
As the pack strung out on a descent, I coasted back, back and further back. Sure enough, riding last was my yellow jersey, and as I floated back one more position, it became me who rode last.

I spent the next three laps weaseling my way back up to the front. It was hard on the congested roads, and I can't deny I crossed the centerline, mostly out of necessity, occasionally out of greed, all the while knowing full well the danger, knowing full well the hypocrite it made me.
Finally I was near the front again, keeping an eye out for any last-lap attacks. I motored up to a few, but the one time I made a sudden acceleration, I cracked hard after a mere 5 seconds of hard effort.
Eventually a rider in green got away by himself. A handful of people traded pulls at the front, including Ed. I went up to relieve him. "That was your last pull," I said as he coasted by me. I wanted him to save himself for the finish.
When it was my turn, I slowly accelerated. Next thing I knew, I looked back and nobody was with me. I didn't mean to attack, I swear, but there I was in no man's land. This would be my last chance to be useful, so I plowed ahead toward the green beacon on the horizon.
I got about halfway across the gap when a Brone's rider I knew to be strong bridged to me. "I'm happy with third," I quickly conceded in order to keep him motivated, but it was wishful thinking. We were soon joined by a third, and after a single rotation we were swallowed by the peloton.
The effort cooked me, but I'd like to think it contributed to catching the escapee a few miles down the road. I stayed with the group until the final mile, where two tricky turns led us back into a racetrack for the finish. As expected, several riders tangled up on the first of these turns, and the gap it created was just the excuse I needed to soft-pedal the rest of the way.
As I crossed the finish line, I heard the announcer say "Oak Park," and I knew that Ed had won.
Photo taken: July 17, 2006