Friday, February 1
Time for another beard update: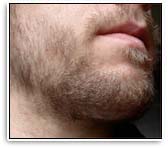 If you think this looks slovenly, you should see my apartment, where housekeeping has been neglected for 31 days and counting. Dirty dishes teeter on every available surface, flat or not. Underwear (clean, I'm fairly certain) is draped over my futon. The kitchen is dangerous. It's almost as though I were just another dorky Chicago bachelor with no woman to look after him properly. The novel's power of illusion is mighty!
By utter and total coincidence, my novel's protagonist grew a beard, too. Oh, and he ended the novel by boarding a plane for Europe. Eerie, huh?
I did something else rash: I started growing a beard. Part of my reasoning was to mark myself as a new person, one unencumbered by my old rules or by the new ways of Silicon Valley. And it would mark distance from Mariah, who had always said she loved my smooth skin right after shaving. Just another of life's little things that she loved.
But I also grew it for the trip abroad. My theory was that the more I let my hygiene slip, the better Iād blend in in Europe. Perhaps Iād even stop bathing. I figured that would come in handy in France in particular. After I went a weekend without a shower, I went to my neighbor and asked him: ćSo, do I smell French yet?ä I took his confused, horrified look as an affirmative.
For the record, neither I nor my protagonist think the French smell -- much -- but it amuses us to pretend we do.
Posted at 10:36 AM
.........................
"So, what did you do last night?"
"Oh, nothing special. Went to work, had dinner, finished a novel."
"What did you read?"
"No. I finished writing a novel."
It's so neat to be able to say that.
Posted at 9:50 AM
.........................
It's finished. It's horrifically bad, but as a favorite colleague once said, I like the doneness of it. And now, no more writing. No more editing. No nothing, for at least a month.
Final stats for January 2002:
1 novel
16 chapters
132 pages
50,758 words
8 pounds gained
Holy fucking shit I'm glad this is over with.
Posted at 12:00 AM
.........................
Thursday, January 31
50,000 words! With 27 minutes to go! And still typing!
Posted at 11:32 PM
.........................
49,446.
Posted at 11:15 PM
.........................
48,395 words. Halfway there.
Posted at 10:43 PM
.........................
I got off work late, so now I have two hours instead of three.
I am so dead meat.
Posted at 9:48 PM
.........................
Tears dripped freely, creating small puddles of sorrow on the copy of Wired ("Nano, nano! How microscopic robots are turning heads -- and profits") that sat on the coffee table.
And with that, I must leave for work, and I'm afraid I won't get anything done there. I should be home by 9, which will give me three hours to write the final 2,372 words. Three hours? Plenty. That's more than four seconds a word!
Posted at 11:33 AM
.........................
Palo Alto had an ordinance against gas-powered leaf blowers, so the day laborers had to sweep up leaves by hand. (Please pardon me. These details have very little to do with the plot. Although there is the theme of immigrant striving, at this point, at 10:35 a.m. on Jan. 31, Iām just trying to inflate my word count. 46,785. 46,786. Hey, neat! Every time I write a number, the number goes up by one! Why didnāt I think of this sooner? 46,808! Going meta rules!)
Posted at 10:38 AM
.........................
Wednesday, January 30
Twenty- twenty- twenty-four hours to go
I wanna be sedated
Nothing to do
Nowhere to go
I wanna be sedated
Just get me to the airport
And put me on a plane
Hurry hurry hurry before I go insane
I can't control my fingers
I can't control my brain
Oh no oh no
Have I neglected to mention that on Monday I leave for a monthlong trip through Europe? And that I haven't started to pack or learn any important phrases? And that I haven't had a chance to make any plans more specific than choosing which airports I will fly in to and out of? Ha ha! Ho ho! Oh no oh no!
Posted at 11:59 PM
.........................